Preview for Success?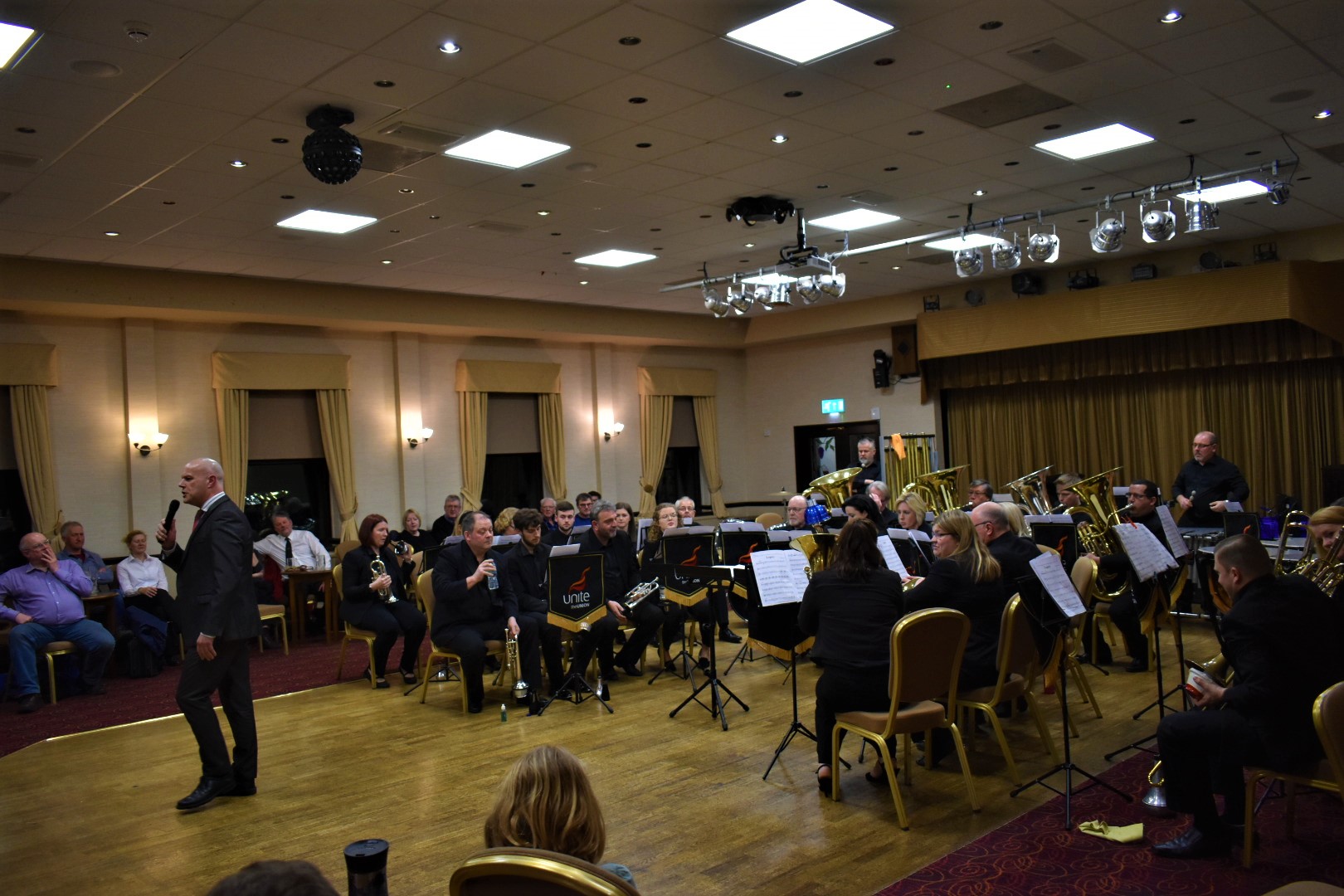 Unite the Union Band held our Annual Test Piece Preview Night on Sunday 1st March, featuring performances of all the set test pieces for this year's regional competition.
Sheffield has a rich banding history, with bands that perform at nearly every level. We were able to invite fellow Sheffield bands, Loxley Silver Band (4th Section), Deepcar Brass Band (3rd Section) and Dronfield Genquip Band (2nd Section) to join us with their set tests. With our band performing the 1st Section piece, completing the quintet was the Hepworth Brass Band from Holmfirth for the Championship Section.
This year's set test pieces are:
4th Section – Neverland – Christopher Bond
3rd Section – Endurance – Andrew Baker
2nd Section – The Golden Sabre – Kit Turnbull
1st Section – Legacy – Tom Davoren
Championship Section – A Tale As Yet Untold – Philip Sparke
The Niagara Centre provides an ideal venue for hosting the Preview Night as with a low ceiling providing a reasonably 'dead' acoustic, it allows all the details of a piece to be heard (or not heard as the case may be). As well as giving the bands a chance to run their test pieces in a performance setting, we also invited an adjudicator to offer feedback and comments to all the bands on the performances of their pieces. Our adjudicator for evening was Mark Wilkinson. Mark is the Chairman of the Association of Brass Band Adjudicators, Principal Cornet of the Foden's Band in the North West region, and is in demand as an adjudicator, soloist and tutor both in the UK and abroad.
Playing to a packed house, all the bands performed their test pieces admirably, and our adjudicator stated that all bands were in a strong position going into their final week of preparation before the Area contest at Huddersfield Town Hall.
We would like to thank all the bands for participating in our event and we hope that they found it a useful exercise in their preparations. We would also like to thank our guest adjudicator Mark Wilkinson for his insightful comments and feedback to all the bands.
To all the bands competing in their respective regions over the next few weeks, we wish you all the best of luck!